I just finished reading a very interesting article by Ross Marchant, Marketing Manager at BrightLocal, an SEO services provider. This article is directly applicable to small business marketing in Northumberland County, where I live. The folks at BrightLocal asked their US consumers panel how much time they would spend travelling to make a purchase from 13 different categories of business. They got 800 responses altogether, then grouped them, by time and category and produced a series of graphics with analyses to go along with them. Now, 13 categories might not seem like much, considering the hundreds of different businesses out there, but here is how they explained how ANY business could use their findings:
"We selected 13 sample categories which cover the majority of industries & sectors. If you don't see your specific category then you you should be able to find a category that share similar traits & customer profiles with yours – e.g. 'Specialist shop' could be a bike shop or computer store, or for an Osteopath you can equate yourself to 'Doctor / Dentist'."
So what did they find? Well, the category people would spend the most time travelling to (and presumably  furthest from them) to do business at was "wedding shop." Attribution to www.brightlocal.com for this graphic.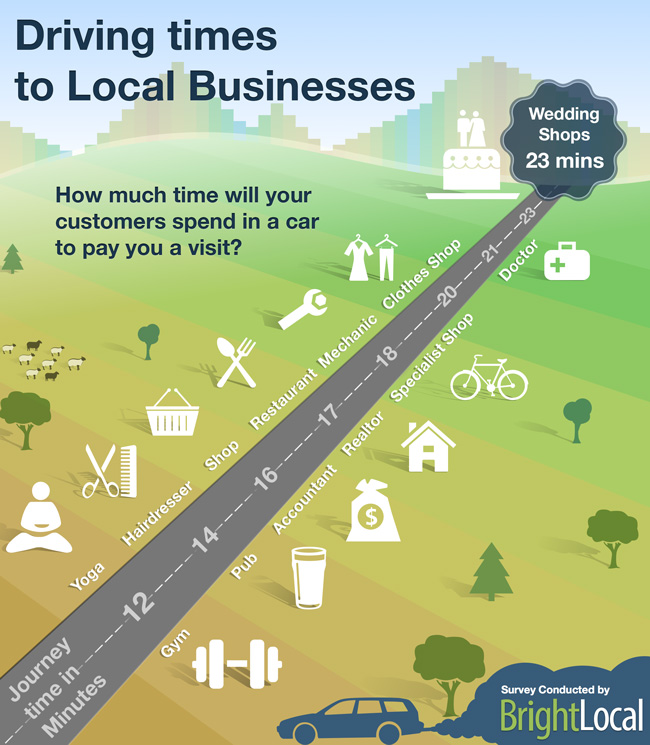 A wedding doesn't happen very many times in your life (we hope) so it makes sense that more effort would willingly be put into shopping for the perfect wedding dress. This principle is easily applicable to other large or significant purchases as well. So if you sell specialized knives for woodcarving, you can safely extend the reach of your marketing efforts beyond that of the business selling jugs of milk. You need to incorporate this thinking into your small business marketing strategy. As a test I did a quick Google search for "bridal dresses near Hastings Ontario" and got a result that was over 30 miles away, as the crow flies. So specifically for Trent Hills businesses, and probably businesses in Cobourg, Port Hope and Belleville, marketing beyond the 23 minute travel time limit makes sense.
So what categories of business in the image above would be similar to your business? I left a comment on the article and one thing I noted is that in a rural area, like the one I live in, people are sometimes forced to travel a little longer/further simply because the service or product they want isn't readily available. Your small business marketing needs to take that into consideration. Your pool of customers could be larger than you think.
Do you ever ask your customers or clients where they live? Or how far they traveled to get to your business? You should. You really can't afford to be throwing marketing dollars out the window. Nor can you afford to ignore the portion of the buying public that is currently within a reasonable driving distance from you and that would happily make the trip for your product and service. I recommend that you go and read this article, and take a look at the graphs and charts. One note: the numbers reported in this survey are averages. That means that  a significant portion of the panelists would travel further than the numbers suggest. So take that into consideration. Here's the link to the BrightLocal article.
You might be thinking that paying to extend the reach of your small business marketing out to 30 or 40 kilometers would be ruinous, then you might want to talk to me about how I am getting potential customers to my clients video ads for as low as a penny a view! That's right. It costs 17 cents to get the post office to drop your flyer into someone's mailbox, where it lies for a few hours before hitting the recycle bin, and my clients have people watching their 30 second ads for just a penny a view. And these ads are only displayed to people that match the age, gender, and interests of my clients customers. Now tell me you can't afford to reach out to an extra 5,000 potential clients. If you think this is interesting, you might want to know more about my Facebook Video Marketing workshop. Call me at 705-931-2223 if you are interested.
I hope you find this article of some interest.
Paul Stevens
Bootstrap Local Marketing